So I've been with you guys for a while and never posted my builds. I will document here and share code that might be helpful to all of you!
I will place my custom code as I develop it to hopefully help others in their automation and customization efforts.
Webcam Feed:
Setup/Equipment:
RA+ w/ expansions: 2nd relay, salinity, RF, dosers
Tank: Leemar Glass 75 gallon 36"x24"x20"
Sump: 20 gallon long
Refugium: Large Aquafuge
Lighting: 2x Ecotech Radions
Protein Skimmer: ASM G3
Circulation: MP 40
Return: Eheim 1262
Other equipment: BRS Dual Chamber (Carbon & GFO) Reactor, BRS Bio Pellets, RA Dosing
Banners:
New setup tank:
Other stats:
WL:
status/chart.aspx?id=alexwbush&filter=WL
Coding Plan:
Custom screen

in progress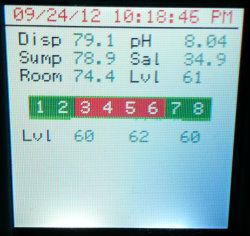 Radion w/moon cycle and variable day periods

in progress
First, paste these variables in the area marked "Place global variable code below/above here"
Then paste the following in main code:
Auto water change

pending
Automated feeding

complete